My R/C cars/trucks page... Warning! There are a lot of them!
Kyosho Big Brute. 4WD and 4WS
Kyosho Blizzard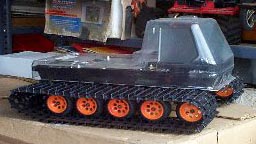 Original, Tamayia Subru Brat! NON-monster!
Tamayia Clod Buster. The original Monster truck! 4WD, 4WS.
1/4 scale Drag car! Gas powered, two speed tranny. Click for other pics!
A custom chassis made from brass and left over parts.
Parma Days of Thunder w/ custom paint.
Tamayia Hummer
JRX2 chassis with a body from a Radio Shack car.
Kyosho Nitro Brute. Another oldie!
Kyosho Optima, 4 wheel drive buggy.
Kyosho 1/8 scale 4WD Nitro Porsche. Ofna .21engine. The predeccesor to the new GP-20 Chassis. Rader speed checked at 65 mph!
The same Porsche with the body off.
Kyosho USA-1 Nitro 1/10 Monster Truck. Ofna .21 engine. Goes over just about anything!
Tamya Wrangler
Parma trailer. As far as i know, this kit is no longer made.
Kyosho Assult. OS CZ-R engine. Another real oldie.
An unknown make Air boat. Has an OS .15 engine for power.
Kyosho Ultima.